PAPSS is a financial market infrastructure that enables instant, cross-border payments in local currencies between African markets. It is designed to revolutionize cross-border payments, making them faster, cheaper, and more secure than ever before.
access more
The Pan-African Payment Settlement System (PAPSS) is a centralized payment and settlement platform for intra-African trade and commerce payments which was created through a partnership between the West Africa Monetary Institute (WAMI), the African Export-Import Bank, and Afreximbank. PAPSS makes payments easier for you and formalizes informal cross-border trade, while supporting the Africa Continental Free Trade Area agreement (AfCFTA). This is aimed at boosting trade and payments among corporates and retail customers.
---
Pan-African Payment Settlement System (PAPSS)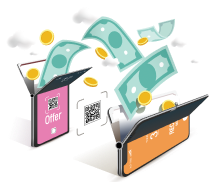 The partnership with Access Bank and the Pan-African Payment and Settlement System will address the challenges and facilitate intra-African trade by providing an alternative to the current expensive and lengthy correspondent banking relationships, through a simple, low-cost and risk controlled instant payment clearing and settlement system.
PAPSS is currently live in the West African states Monetary Zone (WAMZ)
in the following countries: Nigeria, Gambia, Sierra Leone, Liberia, Ghana, and Guinea.
---
Payments are conducted instantly and in local currencies to regain value and domesticate intra- Africa payments as part of the ongoing pursuit of African-economic advancement.

The system conducts immediate checks for compliance, legal, and sanctions, ensuring that payments are processed within 120 seconds.

Settlement is on a Multilateral Net Basis and agreed settlement currencies.

By removing dependencies on 3rd currencies and correspondent banking, PAPSS reduces the cost of bank transfer within Africa.

Operates on a 24/7 basis.
Reduction in costs associated with correspondent banking fees and central delays.
Instant payment in local currencies.
Enables clients to fully fund their trade obligations as against the current fragmented client's FX purchase model.
The beneficiary has immediate access to funds.
Removes the dependencies on third currencies and correspondent banking; facilitates intra-African trade.
Guarantees the final settlement of funds for the recipient participant.
Steps To Transact On PAPSS
Complete and Submit the PAPSS application request at any Access Bank branch.
Form is reviewed and submitted for necessary approvals
Once approval is received, the sender's Access Bank Naira account is debited for the principal amount and related charges.
The beneficiary receives payment in their local currency.
The sender receives notification of completed transaction.
Frequently Asked Question
What is PAPSS?
PAPSS is a financial market infrastructure that enables instant, cross-border payments in local currencies between African markets.
Who can use PAPSS?
PAPSS is available to all Access Bank customers who are engaged in Intra-Africa Trade.

Who is the target market, is it open to individual or strictly to corporate (exporters and SMEs)?
CBN settlement will be strictly for eligible Trade transactions for SMEs and Corporates.


What is the eligible payment mode?
The eligible payment mode is Bills for Collections
How many settlement models does PAPSS support?
The Central Bank model and the Commercial bank model
What is the limit of FX that CBN would avail the importer?
The limit per customer is $20,000.00 (Twenty Thousand US Dollars) per quarter.

What kind of goods are allowed for payment?
Yes, for now only physical goods are being considered and must be on the CBN list of eligible items.
Can a single approval be gotten for multiple transactions?
No. The request for approval would be per transaction and not for bulk transactions.


What is requirement for processing trade payment on PAPSS for the Central Bank model?
Central Bank must pre-approve the application request via the Stakeholder Validation portal.
How fast can beneficiary receive funds using PAPSS (subject to CBN approval)?
Settlement for a transaction is T+1 and flows through NIBSS which has 12pm daily clearing session.
What import items qualify for payment under PAPSS?
Import payments are restricted to goods of African origin.
What currency does the Central Bank Model on PAPSS support?
Transactions are supported in local currencies i.e., from the sender currency to the beneficiary currency.
Can a PAPSS transaction be sent to any Bank in Africa?
The Beneficiary bank must be a PAPSS participating bank.
For further enquiries?
Visit the nearest Access Bank branch for more information
Contact your Relationship manager for further engagement.


Contact our Contact Centre today via email at contactcenter@accessbankplc.com or call us on 0700 3000 000.


View information page on our website